Still deciding on what to do for the Super Bowl in NY?
Here are some awesome events taking place in the New York & New Jersey area that everyone can enjoy:
1.
Super Bowl Boulevard
Where: Broadway between 34th & 47th Streets Times Square NYC
When: Wednesday January 29th - Saturday February 1st
Cost: Entry is FREE!
"For four exciting days, Super Bowl Boulevard Engineered by GMC is the biggest and brightest show on Broadway. Spanning thirteen blocks along one of the world's most famous streets, the Boulevard is the epicenter for NFL fans during Super Bowl XLVIII celebrating all things football. Fans from all over the world and residents of the region will stop by to engage with the NFL, the New York/New Jersey Host Committee and the League's broadcasting partners and sponsors."
2.
The 50 Yard Lounge Food & Wine Festival
Where: One Penn Plaza, 33rd/34th Street & 8th Ave NYC
When: Wednesday January 29th - February 2nd
Cost: $250 - $350/person
"Food from 50+ of the best chefs and restaurants in NYC. Drinks from top mixologists, sommeliers, wine makers and brewmasters. Appearances by celebrity chefs, current & retired NFL legends, & celebrities from the entertainment world. Sounds of NYC, including incredible live music and DJs through the day."
3.
Kickoff to Rebuild
Where: 17 Joseph Street Moonachie NJ Bergen County
When: Friday January 31st
"Kickoff to Rebuild is an annual NFL sanctioned event hosted by Rebuilding Together. For 19 years, Rebuilding Together has partnered with the NFL in Super Bowl cities across the country, rebuilding houses and bringing together neighborhoods, home by home, block by block, because everyone deserves to live in a safe and healthy home. In October 2013 and January 2014, we will mobilize hundreds of volunteers, past and present NFL members and players, community leaders, well-known national celebrities, and local and national sponsors to complete renovations on homes in Bergen County, NJ."
4.
Hudson County Restaurants Super Celebration Week
Where: Hudson County NJ
When: Monday January 27th - Sunday February 2nd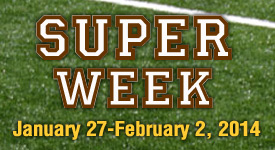 "Participating restaurants in Hoboken, Jersey City, Weehawken and Bayonne will offer special discounted prix-fixe menus for lunch and dinner during Super Bowl Week. So far nearly 30 restaurants of all styles and cuisines will participate in the week-long event, inviting visitors to check out all that Hudson County has to offer."
5.
Newark Happenings
Where: City of Newark NJ
When: Tuesday January 28th - Saturday February 1st
"Visit Newark, New Jersey this Super Bowl Week for a number of great events for the whole family! Beginning with Media Day at the Prudential Center on January 28th, the City of Newark will offer many football-themed and community events for fans of all ages. From Newark's Largest Indoor Tailgating Party to musical performances to sporting events--there's something fun for everyone to enjoy!"
We hope everyone has a great time celebrating the Super Bowl this year! Please remember to drink responsibly and never drink and drive. All Transportation Network provides safe Super Bow limo service. We have very limited availability for Super Bowl transportation so please call ahead! 800-525-2306