Our clients ask for three very simple things from our services: clean dependable vehicle, knowledgeable chauffeur, on time! We want our clients to love our chauffeurs. Straight from our chauffeur handbook, here are 5 of our chauffeur objectives that allow us to provide perfect Hudson Valley limo service - let's just hope our competitors don't see this and learn our secrets!
1. Clean Vehicle
Your vehicle should be ready to be entered into a car show! The carpets should have fresh vacuum lines. The bottled waters and mints should be on display. The presentation of your vehicle is very much like a hotel room, if you walked in and there were dirty towels and the bed was not made, you would feel uncomfortable. If a guest gets into our vehicle and there is an empty water bottle or mint wrappers, this does not make the guest feel comfortable.
2. Dependable Vehicle
You should perform a pre-trip inspection of the vehicle before every trip. Check for any lights on the dash. Make sure the turn signals and headlights work. Double check the license plates lights and ensure wipers are in good condition and you have plenty of washer fluid.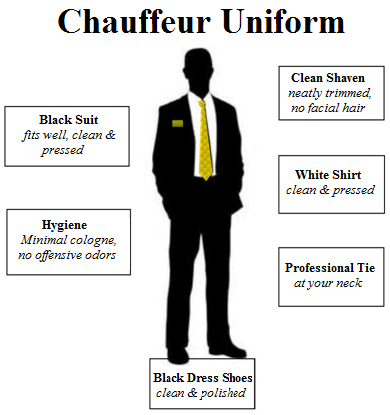 3. Chauffeur Appearance
Your appearance should look like you're ready to be on the cover of a magazine! Your shirt pressed, jacket on, tie up to your neck. Hair combed, nails clipped, no heavy aftershave or cologne, well trimmed beard or clean shaven. The poster and mirror in the office are to remind you and give you an opportunity to look your personal best.
4. Knowledgeable Chauffeur
You should know where you are going, not because your GPS is going to tell you, but because you did your due diligence before the trip. You should check Google Maps (use street view if possible) for your pickup and drop off locations, so you're not seeing it for the first time with the client. Know what street is before your turn. Clients are not paying for your GPS to get them there, they are paying for a professional chauffeur, one who has experience in their transfer. There will always be traffic on the Van Wyck and NYC, it is your responsibility to properly research each trip and to know what to expect and plan your primary routes and alternates. Check for local events, sports games, bridge closures, traffic conditions, construction, if the president is in town, festivals, and more.
5. On Time
On time is 15 minutes early, no exceptions! Showing up at the scheduled pickup time is late. Don't be too early, 15 minutes is the acceptable time to show up, any less and your late, any more and you are too early.