This month's spotlight winery is Hudson Valley Wine Tour limousine service with All Transportation Network, we are more than happy to keep these items in your vehicle throughout the day, and your chauffeur will even help you set up at the wineries.
Educational cellar tours
Sure, you can go to any winery to for a wine tasting, but at Robibero Family Vineyards you have the chance to go on an educational cellar tour. The cellar tour costs $15, and includes a tasting of 5 wines as well as the logo glass to take home. Tours are given once a day, on Saturday and Sunday, at exactly 12:00pm. Don't be late!
Awesome "R Case Club"
Robibero Family Vineyards offers seriously awesome discounts to their "R Case Club" members. To become a member, all you have to do is purchase a case of wine (10% discount on this purchase as well) and you are automatically eligible to enroll! The "R Case Club" membership benefits and discounts include:
Wine purchase discounts of: 1-6 bottles 10% off, 7-12 bottles 15% off, and if you purchase more than 3 cases of wine during your first year of membership, you'll receive 20% off all purchases for the entire year Wine tasting for four will be free for the year in the Robibero tasting room 10% off tickets for events held at the Robibero Winery 10% off all tasting room merchandise And more! Click
here
for more details on the "R Case Club" membership.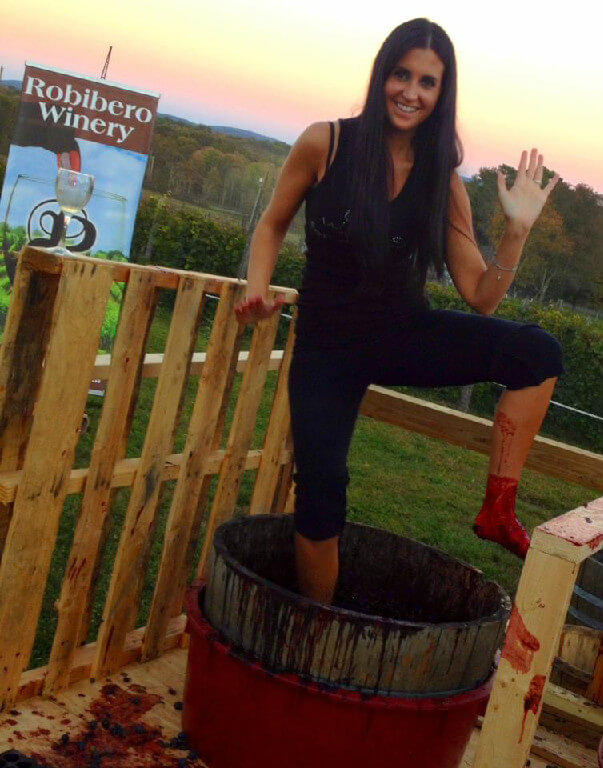 Home to some of the greatest events in the Hudson Valley Robibero Family Vineyards hosts numerous events (throughout the entire year) that are so much fun. Here are just a few of our favorites: June 13th - Vine Van Gogh, Creativity Uncorked July 12th & 13th - Sangria Festival August 2nd & 3rd - Pig Roast & Luau August 23rd & 24th - Winestock September 27th & 28th - Grape Stomp Festival Click
here
for more details on the Robibero upcoming events.
As you can see, Robibero Family Vineyards is a great place to visit on your Hudson Valley Wine Tour.