There are some airports scattered all throughout the sizable New York, New York region. If you're on the lookout for a public airport that's about an hour away from the middle of the Big Apple, then New York Stewart International Airport may be right for you. This New Windsor destination can be useful to people who rely on prominent airlines like JetBlue Airways, Allegiant Air, Delta Connection and American Eagle. It can be useful to those who need to go to cities such as Detroit, Michigan, Orlando, Florida, and Philadelphia, Pennsylvania as well. All Transportation Network in lovely White Plains gives customers SWF limo service that's of outstanding caliber. If you want SWF car service that can tick off all your boxes, let us know A.S.A.P.
Excellent Limo Service

Limo rides that go smoothly can make you feel like a million dollars. They can help you get ready to tackle your travel adventure, too. If you want to feel energized before hopping on a flight that's headed to Detroit, then our professional limousine service can work. Our professionals do what they can to give our customers limo rides that are well-rounded and soothing. Our limousines include all sorts of top-notch amenities as well. If you want to hang out in a limo that has some of the most enticing seats around, we're right here.
Contact the Lovely Team Members at All Transportation Network
All Transportation Network is an esteemed transportation favorite that responds to all kinds of limo wishes in the region. If you want to go to Stewart International Airport, notify us A.S.A.P. Call the sedulous employees at All Transportation Network for additional details about our transportation specialties. Book a limo service appointment with our wondrous team.
With our headquarters located just 5 minutes away, you can depend on us to provide superior Stewart Airport limo service and transportation. We have been providing the best Stewart Airport limo service and transportation to the Newburgh Waterfront since 1988!
We recently celebrated our 30th year in business. With 30 years of experience under our belt, we know what it takes to provide the absolute best Hudson Valley limo service. Our knowledgeable and professional chauffeurs are extremely familiar with Stewart Airport and the entire Hudson Valley.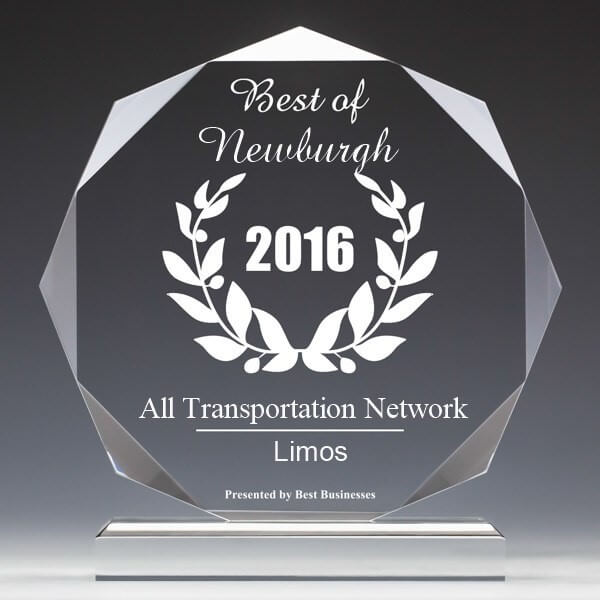 All Transportation Network Received The 2016 Best of Newburgh Award for Limo Services!
We were recently awarded Best of Newburgh for our airport transportation services. It brings us great pride to work in such a vibrant community.
"Each year, the Newburgh Award Program identifies companies that believe have achieved exceptional marketing success in their local community and business category. These are local companies that enhance the positive image of small business through service to their customers and our community. These exceptional companies help make the Newburgh area a great place to live, work and play."
We would love the opportunity to provide excellent service for you, and show you the All Transportation Network "Better Travel Experience." If you would like to receive a price quote or more information about our services, please fill out the form to the right.